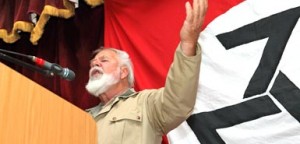 De leider van de Afrikaner weerstands Beweging is gisteravond vermoord door twee van zijn werknemers. Ze belden zelf de politie om te zeggen dat ze Terre'blanche hadden doodgeknuppeld met een panga en een knobkerrie. Toen de politie ze kwam arresteren, hadden ze die nog in de hand.
Ze beweren dat Terre'blanche weigerde om hun salaris te betalen. Driehonderd Rand per persoon, dertig euro, een maandsalaris. De ene verdachte is 21, de ander 15, ook hij was een werknemer. Een werknemer van vijftien.
Ik zeg dit allemaal niet om begrip te kweken voor de moord. Het zal niets oplossen en de tragiek is dat de discussie de komende week zal gaan over de vraag of de kogel kwam van jeugdleider Malema, die niet ophoudt revolutionaire strijdliedjes als 'Shoot the Boer' te zingen.
Maar dat de feodale arbeidsverhoudingen in ruraal Zuid-Afrika nog voortleven, zal dat nog ter sprake komen?
En: hoe kon het bestaan dat een man veertig jaar lang rassenhaat kweekte? Hoeveel doden heeft dat gekost?