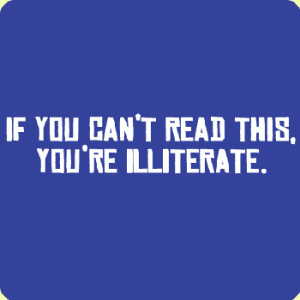 Driekwart van de bevolking in Afrika kan niet lezen of schrijven. Heeft de verslaggever van de Volkskrant dat zelf bedacht of gehoord tijdens de conferentie 'Fill the gap; Moving beyond the mobile hype' waarvan zij vandaag verslag doet. In het gegeven ligt de oorzaak van veel goedbedoelde maar mislukte projecten op het gebied van mobiele telefonie in Afrika, aldus de verslaggever. Daarom, zo betoogt een van de conferentiegangers, moeten er 'Afrikaanse oplossingen voor Afrikaanse problemen komen.'
Drie minuten googelen en je weet dat de het cijfer niet klopt. De 'literacy map of Africa' laat zien dat in vier landen inderdaad zo'n driekwart van de mensen niet kan lezen of schrijven. In nog eens acht landen is dat percentage de helft. In de rest – zo'n 42 landen – telt het aantal analfabeten tussen de 15% en 45%.
Hoog genoeg, natuurlijk. Maar niet voor de uitvinders van 'Afrikaanse problemen'.