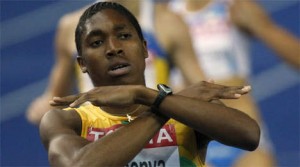 Dat de Zuid-Afrikaanse atlete en wereldkampioen op de 800 meter Caster Semenya onderworpen wordt aan testen die moeten vaststellen wat haar sexe is, vind ik minder verbijsterend dan het feit dat de uitkomst ervan al vast staat: ze is een vrouw of een man. Tussenvormen bestaan niet. In de wereld van het homo-activisme heeft zich in de afgelopen jaren een snel groeiend acroniem verspreid. Aanvankelijk werd de gemeenschap benoemd als 'homo's' maar toen kwamen de vrouwen in verzet en werd het 'homoseksuele vrouwen en mannen', of 'gay and lesbian.' Vervolgens voelden de biseksuelen zich buitengesloten. Het gaat hier nog om drie categorieen die zich in mannen en vrouwen laten opdelen – hoewel daar in sommige culturen ook weer anders over wordt gedacht – maar dat is minder eenvoudig met mensen die zich laten 'ombouwen' en tussen sexes inzitten, mensen die zich man in vrouwen- of vrouw in mannenlichaam voelen, en die zich vaak laten aanroepen in de tegenovergestelde sexe van wat hun geslachtsorgaan suggereert.
Hoedanook, op conferenties spreken hooggeleerde homo's (en lesbo's en travo's en transgenders en transsexuelen, en intersex-achtigen) tegenwoordig over LGBTI. Laatst stelde iemand voor daar een U aan toe te voegen – voor 'undecided.'
Over de huidskleur van Caster bestaat overigen geen verschil van mening. Ze is zwart. Maar echt zwart of Obama-zwart?