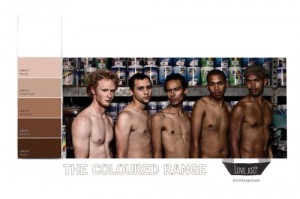 1
Op zoek naar frisse tinten (de schilder komt maandag) een nieuw palet gevonden op de digitale snelweg. Advertentie van I Love Jozi die de branding van deze stad in overeenstemming probeert te brengen met zijn bonte werkelijkheid. Heel uitzonderlijk voor reclamejongens, meestal doen ze het omgekeerde.
2
Radio, 7.15 uur. Jeremy Mansfield, presentator en de beste Mandela imitator van het land, voert twee Zimbabwaanse immigranten op. De een is straatarm, de ander draagt een keurig maatpak en rijdt in een BMW. 'Ik sta bij het stoplicht met een bord', zegt de arme. 'Please help, 6 kids to feed.'
'Dat doe je helemaal verkeerd", zegt de rijke. 'Ik heb een tijdje bij het stoplicht gestaan met "Please help. Need ten more Rand to buy a ticket back home." Het geld stroomde binnen.'
3
Plakkaat op boom met krantenkop 'TRC on Aids', 8.30 uur. De ondervoorzitter van het parlement, mevrouw Noziswe Madlala-Routledge (ANC), is voor een waarheidscommissie over het aidsbeleid onder Mbeki. Madlala was staatssecretaris van gezondheidszorg, wijzigde het beleid ingrijpend toen haar baas (Minister Beetroot!) even ziek was en werd vervolgens door Mbeki ontslagen. Nieuwe openheid, na een lange bange nacht eindelijk weer debat.